Spring Clean Your Lexus near Deerfield, IL

If it's been a while since you thoroughly sanitized the vehicle in your possession, what better time to do it than with the turn of the season? Hopefully you will be taking your ride out for more weekend cruises in the warmer months, which means it will need to be fresh and ready. These tips and tricks will help you get there! Here's our list of recommendations for how to spring clean your Lexus, from Lexus of Highland Park.
Exterior
The first step in cleaning up your car is to tend to its exterior. While you can take it to a car wash, you can also easily scrub it down at home with just a few simple materials. Gather together a hose, bucket, soap, sponges, and towels, and you can get to work. We suggest polishing from top to bottom with a sponge and soapy water, so that all the dirt washes down onto the ground. Make sure to get into all the crevices on the exterior of your model. After you've completely scrubbed your car down, rinse it off with the hose, making sure that the pressure isn't set too high on the nozzle. Then, we suggest wiping the entire exterior shell down with microfiber towels away from direct sunlight to reduce spotting and get an even shine all over. To go one step further and protect the exterior of your car from exposure, our team suggests sealing in your work with a wax!
Interior
Next, you'll want to sanitize the interior. The first step is to take out any items or trash laying around so that you can work with an empty slate. The interior can be split into four groups—surfaces, windows, seating, and floor. Any surfaces such as your dashboard or storage trays can be wiped down with the same aforementioned microfiber towels in a soap and water solution. This will eliminate germs and dust. Your windows and mirrors require the same towels with any automobile-specific glass cleaner to get rid of any grime that may cloud your vision. As for your seating, there are two paths. If you have leather chairs, then a conditioner or gentle oil is best to eliminate stains and improve its scent. However, if you have cloth trim, then an upholstery cleaner and a vacuum are your best bet. Finally, a vacuum can be used to remove any crumbs or dirt from any carpeting while your floor mats can be hosed down with soap and water.
Other Recommendations
Once you complete your big spring cleaning session, there are a few other recommendations that can keep your vehicle immaculate year-round. First, we suggest going back every month for a small sanitization, just so that your car maintains a continuous level of freshness. It is also a good idea to keep several items on hand in your cabin, such as a trash can, paper towels, wet wipes, and hand sanitizer. This will keep everyone that's riding along germ-free, while also giving you the materials you need to wipe up little spills if they should ever occur while you're on the road. Lastly, our Service Department offers Cilajet Anti-Microbial spray protection. This light solution coats your cabin and kills 99.9% of bacteria and germs, while staying completely harmless to people and pets. Ask our team about it today!
We hope our recommendations on how to spring clean your Lexus near Deerfield, IL, are helpful. Give us a call or contact us online at Lexus of Highland Park with any questions or concerns!
Service Hours
847-282-4957
| | |
| --- | --- |
| Monday | 6:00 am - 6:00 pm |
| Tuesday | 6:00 am - 6:00 pm |
| Wednesday | 6:00 am - 6:00 pm |
| Thursday | 6:00 am - 6:00 pm |
| Friday | 6:00 am - 6:00 pm |
| Saturday | 8:00 am - 4:00 pm |
| Sunday | Closed |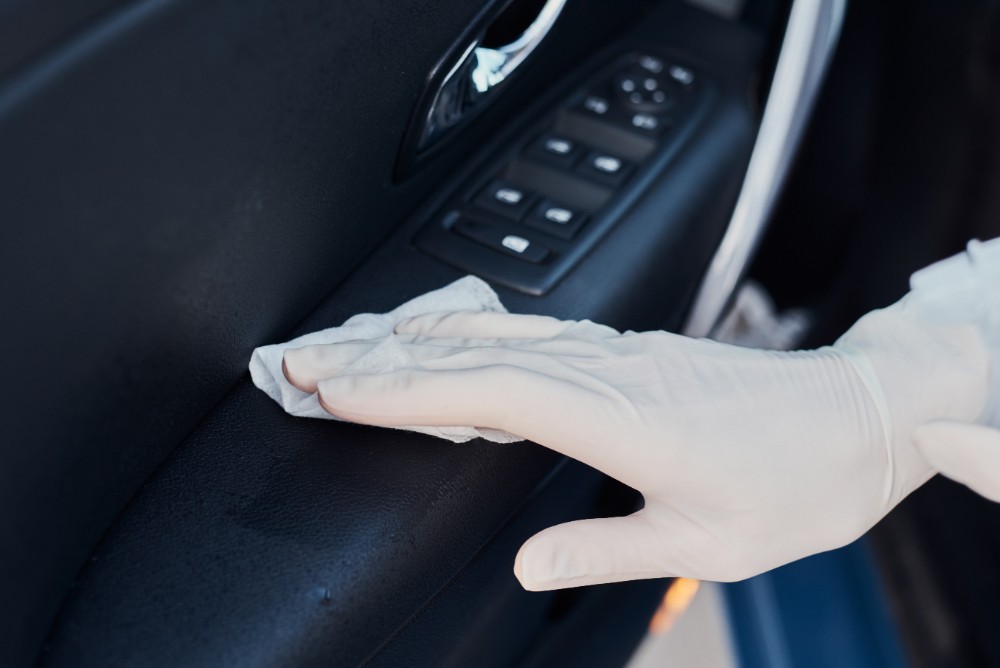 Testimonials
GOOGLE
6-5-2020
GOOGLE
6-4-2020
GOOGLE
6-1-2020
GOOGLE
5-26-2020
YAHOO
5-24-2020
YELP
5-24-2020
CARGURUS
5-24-2020
"Not great"
DEALERRATER
5-4-2020
CARGURUS
4-17-2020
GOOGLE
3-23-2020
GOOGLE
3-15-2020
YELP
3-15-2020
GOOGLE
3-1-2020
GOOGLE
2-28-2020
YELP
2-21-2020
YAHOO
2-21-2020
GOOGLE
2-20-2020
YELP
2-18-2020
GOOGLE
2-7-2020
GOOGLE
2-3-2020
GOOGLE
2-2-2020
GOOGLE
1-24-2020
CARGURUS
1-7-2020
CARGURUS
1-2-2020
Read More